NEWSLETTER
In the Steps of the Black Cat – Pete & Trish finally get away!
Well, as you all know by now, things didn't exactly go to plan on 7 June. Several days of inclement weather led to the decision to cancel the formal proceedings planned for Pete & Trish's official departure at Rathmines. The decision was taken late on the evening of Thursday 5 June and the weather persisted throughout most of the following day.
With cloud on the ground at Bowral and Mt Victoria and showers on the coast they were stuck in Goulburn unable to move earlier in the week as planned. By this time, Pete was contemplating postponing the trip to Sunday 8 June but, as luck would have it, the skies cleared on 7 June and they cruised along in glorious sunshine at 5500 ft into Sydney, dropping down to skim over lake Macquarie and Rathmines.
Arriving at Rathmines just prior to 3.00pm, Pete and Trish were greeted by a 50 plus cheer squad of family, friends and supporters. Phil Dulhunty and Mike Usher (Lake Macquarie Historical Society) were also there to greet them and send them on their quest (your intrepid newsletter editor was skulking in the crowd witnessing events first-hand).
Pete's mother, Mrs Margaret Smith and other family members made the journey to Rathmines, spending the day inspecting the old base and memorial to the Catalina crews. With little time left in the day, they dropped into Wallsend to a local private strip in Newcastle, and bedded the aircraft down in a hangar offered by the local hospitable flying enthusiasts.
The rain returned on the Sunday and didn't clear in time to allow a departure on the day. Pete & Trish finally departed on Monday 9 June, taking off for Nobby's Head then Nelson Bay with the underlying water bodies firmly in their sights as the skies closed in to the north. Not to worry! Lake-hopping their way to sit out the showers, they eventually arrived at a very wet and muddy airstrip at Old Bar by 3 pm, having sat down five times on route.
The trip can be followed on the following websites: www.catalinaflying.org.au and www.australiangeographic.com.au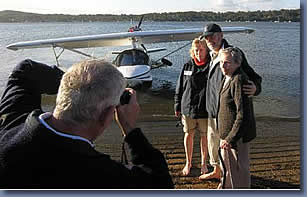 Auction of priceless print postponed
The cancellation of the events planned for Rathmines on Saturday 7 June naturally meant that the auction of the limited edition print of P G Taylor's Catalina Frigate Bird II taxiing in the open ocean around Easter Island did not proceed.
Consequently, it has been decided to postpone the conclusion of the auction to the October long weekend during the 2008 Catalina Festival to be held at Rathmines. Bidding started a few months ago and further bids may be placed on-line via The Catalina Flying Memorial Ltd's website. The highest bid received so far is $1,000.
June 21st 2008
Volume 2 Issue 5
Newsletter Spotlight
In the Steps of the Black Cat
Auction - Limited edition Print
NEWS >> To view past newsletters, view press releases and other news
email a Bid
or send your bid to
Catalina Flying Memorial Ltd
ACN 103 492 440
Building 2, Ground Floor
35-41 Waterloo Rd
Macquarie Park NSW 2113