PBY6A CATALINA RESTORATION
A History
Our PBY-6A was in the final stages of preparation for its Ferry Flight. Test flights were successful and the Catalina was ready to depart on Nov 18th 2007.
The day before our ferry crew were to depart Seia, the RH engine started gushing lots of blue smoke. The take-off was aborted and the aircraft taxied back to assess the damage. What we know now is a con-rod broke and the engine sustained internal damage as a consequence .
It is disappointing and a major set-back as the engine will have to be overhauled, and this means a lot of work and delay, not to mention additional costs. See photos below>>
Since the winter weather in Europe is not conducive to doing the work or to flying, our ferry crew will return to Australia. We are now looking at next year before the repairs can be completed and a ferry flight contemplated.
INITIAL RESTORATION CREW
Geoff Hazelton
Ray Molyneaux
Hal Griffiths
Julian Dinsdale
Mick O'Grady
FURTHER RESTORATION
When our cat arrives in Australia it will progressively be restored to original condition.
CATALINA PBY6A VH-CAT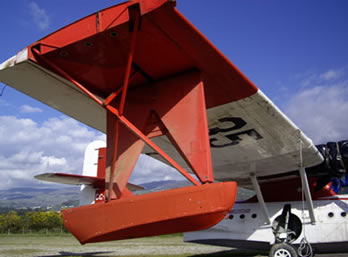 THE SEARCH
Phil Dulhunty searched for a suitable Catalina. It was in the town of Seia in Portugal that he found what he was looking for.

The PBY6A Catalina that we have acquired and restored in Seia, Portugal suffered an engine failure during one of its test flights prior to the ferry flight to Australia in November last year.
Since then we have searched the world for two new engines (Pratt and Whitney 1830-92s, similar to those used in the DC3) and finally located two completely overhauled ones from a firm in Collinsville, Texas. With extra money borrowed from sponsors we purchased these two engines and shipped them to Portugal. The members of our engineering crew under the command of Geoff Hazelton are now assembling themselves in Seia to start the process of removing the old engines and installing the new ones. They are being assisted by members of the Dutch Catalina Association who operate their own PBY Catalina in Amsterdam. Geoff Hazelton has also been able to acquire a blister, one of the observation bubbles, which we will need to install and we are on the look out for a second one. Jim Hazelton and the ferry crew consisting of himself, Geoff, Hal Griffiths and Richard Purdy will be test flying the aircraft and ferrying it to Australia before the winter weather sets in the northern hemisphere.
Because of problems and limitations with our Civil Aviation Safety Authority, we have taken the step of de-registering the aircraft from the Australian register and registering it with the FAA of USA. This is less expensive and more expedient as the FAA has licensed engineers resident in many countries. We have been able to reserve the Australian registration letters VH-CAT and it is our plan to re-register it in Australia once the aircraft arrives here.
To get this project out of its holding pattern, we need money badly! In fact, we need all the help we can get. A corporate sponsor would be a huge help. If you can't help directly with the provision of money, then perhaps you could offer suggestions for or, perhaps even an introduction to a corporate sponsor.
If you think you may be able to support this project - Have a look at our How to Help Page